*This blog post has been thoroughly disinfected and debugged*
Advice for anyone thinking about spending a weekend away on a writing conference - don't go if you've got the lurgy.
To be honest, I'd had a couple of 'meh' days before I went, but I'd had such a busy run-up to York, I put it down to being tired and told myself it would pass. And of course, on Friday, I was so pumped, I felt heaps better and went.
In hindsight, that was probably not such a good idea; I spent two days full of a cocktail of paracetamol and ibrufen, stole copious amounts of loo roll from York Uni to stem the flow from my nose, tried not to hug/breathe on too many friends for fear of passing said lurgy on, and almost did myself an injury attempting to cough quietly in every session I attended.
At least I didn't get a migraine.
Anyway. York. Where to start?
With friends I've met before and those I'd only met in a virtual landscape? Or maybe those I've made during the weekend? It is always lovely and very special to meet up with Cloudies, however fleeting the encounter, but there's also something to be said for the writers you probably would never have met at all, if it weren't for the conference.
What the cloudies do best - support other cloudies in their ventures!
Or maybe meeting with agents and authors? Feeling just a little tingle of pleasure when your face is recognised and they say hello or ask how your day's gone or pass comment on something you said in a session (see - you're not just an anonymous writer - you said something they remembered!) or even tell you that you look gorgeous in your gala frock!
Me having a chat with the lovely Allie Spencer
Perhaps I need to tell you about the 1-2-1, that all important and absolutely terrifying moment when you hear what someone in the business thinks about what you've written; the hard truth about what might need fixing to make the piece sing - or the unbelievable news that the agent wants to see more. This year, my 1-2-1's were not particularly high points, but there were plenty for whom it was and I'm celebrating their success whilst at the same time trying to suss out my own future direction.
How about sharing the moment where I heard the wobble in
Matt Haig's
voice that spoke of the deeply personal nature of 'Reasons to Stay Alive' when he shared an extract at the keynote closing speech - a wobble I have encountered myself when sharing deeply personal faith experiences with an audience. Matt, you will never now how much I felt for you then: I am so glad you powered on.
Maybe I ought to tell you about the copies of
Granny Rainbow
I sold and signed alongside the lovely Jody Klaire and her book,
The Empath?
And stopping
Dave Gaughran
as he walked past the table on his way to lunch, just to tell him that self-pubbing Granny was entirely down to his workshop last year, when I decided that it wasn't so impossible to get her into print...
The walking advertisement that was Em...
And musn't forget the workshops. They'll probably get posts of their own over the next few days, but suffice to say that I have not come away empty-handed from any of them. They might even have pointed to a major flaw in my approach to writing a novel...but I need to brood on that one a bit more before I share.
Or the work-in-progress you hear about. Why WAS there a red-headed girl in the attic? What will happen to the man who had his toes eaten by leprechauns? Why did the Vikings disappear from Greenland? How does the story end for the mother who has lost her child to a religion there is no turning back from? There are so many 'I'd love to read that!' moments. Especially when you share a table with not one, but three Friday Night Live shortlisters, the lovely Susan Franklin and her 1-2-1 team, AND the author
Nick Sheridan
!
How about moments of shared experience, like the photoshoot of fellow self-edit graduates? There were plenty of us there, and many others who weren't...but I would highly recommend doing
the course
. You'll never look at your writing in quite the same way again...
Some of the self-edit graduates with the wonderful Debi and Emma, out tutors.
(Note my flashy silver shoes...!)
And the food. I had no complaints at all - other than I didn't feel like eating much. No-one needed to go hungry, as proven by this photo of lunchtime cake!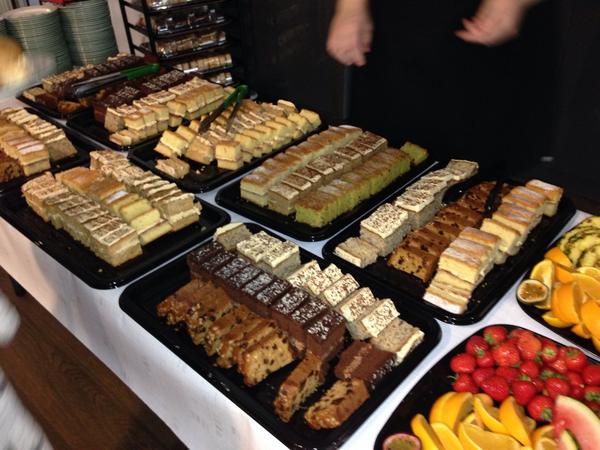 Writing fuel
I could go on, but I'm feeling pretty cream-crackered now. I'll post more over the next few days, but for now, I'm all Yorked out, and I need to rest up if I'm going to be fit for the local author event at Loughborough Waterstones tomorrow (4-6pm - you can order copies of Granny if you haven't already got one, plus chat to around 30 authors from the area) as well as attending the second launch party for
KLiCbait vol 1
on Thursday evening in Leicester (7pm onwards in the Parcel Yard, next door to Leicester Station).